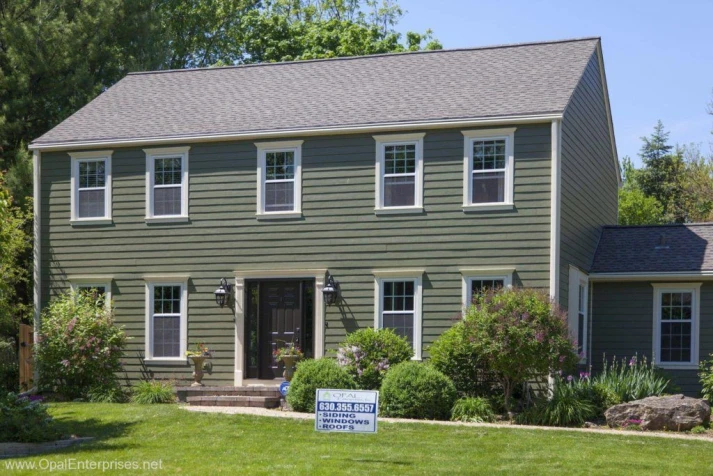 New siding not only makes your home look beautiful, but it also adds good monetary value to your home. According to the Cost vs. Value report from Remodeling, homeowners can recoup between $10,000 and $15,000+ if they install new siding or replace the old one in their home's exterior.
At Opal Enterprises, our professional siding installation contractors have served residents of Des Plaines and helped install siding on many homes. If you want your new siding installed by a leading company, we can help.
We are experienced, skilled, and capable of getting the job done very quickly. All our siding installers are well-trained and qualified to do a great job and transform your home's exterior into one you'll be proud of and happy with.
Our Siding Installation Process
We have a pretty straightforward siding installation process. This helps us do a great job every single time, and leaves the client happy with the siding installation.
Visit your building

– This is where we'll come to your home to discuss the project, assess the scope of work that needs to be done, show you the available siding options, and take the right measurement details. We often recommend that homeowners visit our showroom so that they can better understand what we explain to them during this visit.

Start the installation

– Once the property owner is ready to move forward and has chosen a siding material and design that they like, we'll start the installation. This usually involves executing a detailed plan that our installation team will follow, and homeowners are constantly updated as the project progresses.

Inspect the work

– Once we're done with the installation, we'll inspect the project and add the final touches. When we're satisfied, we'll clean up the site and get rid of all debris from the premises.
Once you're happy with the work, we are too. We will also likely follow up with you, later on, to ensure that you're satisfied with the new siding installation.
Only high-quality materials from trusted manufacturers when handling siding installation
Choosing the Best Siding Options for Your Des Plaines Property
Do you already have an idea of the kind of siding you want? If you already do, are you sure that it's the best one? We only ask this question because it's important to consider Illinois' local weather before choosing a siding material.
And if you don't have any idea of the right siding material, you'll learn a lot about it here. There are quite a number of siding options that are available to you. These include:
Insulated vinyl siding

Natural wood siding

Stone siding

Stone veneer siding

Metal siding

Stone veneer siding

Board siding

Manufactured wood siding

Metal siding
Consider the Weather When You Consider Your Siding Options
Not all siding options are ideal for our Illinois climate. When you eventually choose a material, you want to make sure that it's compatible with the climate here. This way, it'll last a really long time because of its ability to withstand the weather.
The best siding materials for Des Plaines' weather are James Hardie fiber cement siding, insulated vinyl siding, vinyl siding, board siding, and stone veneer siding. These are most compatible with the weather here and are more likely to be durable and long-lasting. For instance, natural wood siding, although nice-looking, will not last as long as vinyl or insulated vinyl because it's better suited to the warm climate in the south.
Then, there's the small issue of energy efficiency and reduced energy costs. The siding you choose can play a role in determining how much you'll pay for utilities, particularly in Des Plaines' cold freezing winters and hot summers. Those siding materials that are best suited to the Illinois climate tend to translate to somewhat lower energy bills.
Factors Influencing Your Siding Installation
The quality and speed of your siding installation are usually determined by a few factors:
Siding materials

Your budget for the project

How quickly you'd like the job done

The weather

The size of the home

The current state of the current siding on the home

The property's location

The installation process
These factors will determine how quickly your project will be completed and its cost implications. At Opal Enterprises, we generally try to make the process as fast as possible so that you can start enjoying the view.
Only high-quality materials from trusted manufacturers when handling siding installation
How Long Will It Take to Install the Siding?
That depends on your unique circumstances. Every siding installation project is different. This uniqueness will play a role in determining how quickly we'll complete your project. Some of these include:
How easy it is to get to the property – buildings located on higher elevations are harder to reach, so transporting the siding materials may take a little longer than expected

The property size – siding installation on larger properties will take more time than on smaller-sized properties

Wall size – large, tall walls typically take longer than smaller shorter ones

Your siding material – some siding materials are more difficult to install, so they'll take more time than the easier materials

Installation process – different siding materials require unique installation methods and the duration for each will differ based on the method

Custom siding – custom work typically takes longer because of the requirements, materials, and designs
Contact Our Des Plaines Siding Installation Contractors
At Opal Enterprises, our siding installation contractors serving Des Plaines residents and homes can install beautiful siding on your home. We are qualified and knowledgeable about all types of siding materials. As a leading siding installer in Cook County, IL, we have helped many homeowners transform their property's exterior.
We are very skilled, understand the process of doing great siding work, and are committed to ensuring that you're happy with the installation. We're also licensed, bonded, and insured. Contact us today to request a free estimate or discuss your siding project in Des Plaines, IL.