Are you planning to replace the siding on your home or business? If so, you can contact a siding installation contractor for help with the process. Our team at Opal Enterprises has the experience to make the installation process fast, easy, and low-stress.
We handle residential and commercial siding installation, taking on new construction, and siding replacement. Our licensed, bonded, and insured technicians review your needs and develop a plan to handle the installation for you.
Discuss your options for siding installation today by calling or filling out our online contact form.
Why Hire Us for Your Siding Installation in the Chicago Area?
Opal Enterprises Inc. serves as your trusted siding contractor in Chicagoland. We understand that your home is your most significant investment, and that's why we offer expert installation that will protect and enhance the beauty of your property for years to come.
Our team of experienced professionals has the skills and expertise to handle any siding project, whether you're looking to upgrade your home's curb appeal or improve its energy efficiency. We only use high-quality materials from trusted manufacturers when handling siding installation.
We want to help you celebrate your new siding project, providing a quick estimate on cost and clear pricing to allow you to budget for the installation. In addition, we communicate with you throughout the process, answering your questions and treating you respectfully.
Only high-quality materials from trusted manufacturers when handling siding installation
How Do We Handle Your Siding Installation Job?
At Opal Enterprises, we take pride in our work and strive for excellence in every project we undertake. Here are just a few reasons why you should choose us as your siding installation contractor in Naperville:
We Provide Expert Siding Installation Services
Our team of professionals has years of experience in the industry, and we take the time to ensure that every installation gets done right the first time. We can remove and dispose of your old siding, and we will clean up your property after the installation.
We also provide a walkthrough after we finish the job, ensuring the siding looks the way you want.
We Use High-Quality Materials
We use only the best materials in the industry to ensure that your siding will stand the test of time. In addition, our relationships with well-known and respected siding manufacturers allow us to provide you with many options for your siding.
We work with you to select the option that best fits your needs. You can select from a wide array of colors, allowing you to choose a style that fits your aesthetic preferences.
We Offer Options to Boost Energy Efficiency
Our siding options focus on improving your home's energy efficiency, which can lead to lower energy bills and a more comfortable living environment. We focus on bringing you a wide range of options to explore.
We Use Competitive Pricing
We offer competitive pricing without sacrificing quality to get the best value for your investment. We also provide financing options that make it easier for our clients to budget for the installation of new siding.
Why Install New Siding for Your Home or Business in Chicagoland?
Your siding system makes up most of your home's exterior, making it a critical component contributing to curb appeal and protection against the elements.
If your siding is damaged or showing signs of age, not only will it be impossible to achieve the exterior look you desire, but it will also hurt energy efficiency and make your home vulnerable to water infiltration, which could result in mold growth and rot.
A siding installation contractor can assess your property if you're considering replacement. You may also decide to schedule an installation if you notice discoloration or damage to your current siding.
Only high-quality materials from trusted manufacturers when handling siding installation
What Kind of Siding Can You Purchase the Chicago Suburbs?
We offer a variety of siding options to suit your needs and budget. Here are some of the most popular types of siding we install:
Vinyl Siding
Vinyl siding is a popular choice among homeowners due to its durability, low maintenance, and affordability. In addition, it comes in various colors and styles to match your home's aesthetic.
Fiber Cement Siding
Fiber cement siding is a durable, low-maintenance option that offers excellent protection against the elements. It can mimic the look of wood or masonry but without the maintenance requirements.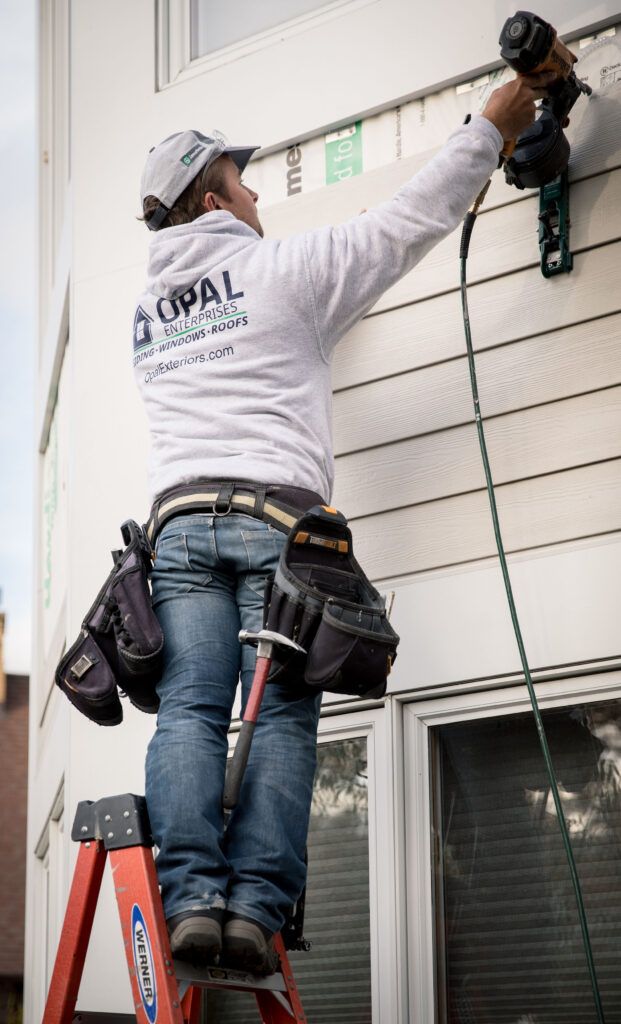 We Proudly Offer James Hardie Siding Options
When choosing a contractor to install James Hardie siding on your home, there are many pitches and perks to sift through. James Hardie helps you cut through the noise with their Contractor Alliance.
The alliance has two types of contractors: Preferred and Elite Preferred. Opal Enterprises is proud to have earned the status of Elite Preferred, and we'd like to tell you what makes it and us unique.
Opal Enterprises specializes in James Hardie siding installation for homeowners in Chicagoland's suburbs. We have extensive experience installing this durable and versatile siding option, which has become increasingly popular among homeowners.
Should You Choose Fiber Cement Siding in Illinois?
As the area's premier siding contractor, we offer a variety of top-of-the-line house siding products and provide homeowners with all the information they need to make the best choice for their homes and budgets.
Often, we recommend fiber cement siding because it is the ideal product for local homes. From the highly regarded manufacturer James Hardie, this innovative cladding material works for the regional climate to provide outstanding thermal performance and weather protection.
Plus, it is finished with ColorPlus® technology – a proprietary baked-on finishing system – ensuring long-lasting fade protection. Find out more about this option with a siding installation contractor in Illinois.
What Happens During Siding Installation in Illinois?
We understand that you may have many questions about the siding installation process. Therefore, we begin by sitting down with you to discuss your goals for renovations. Once we understand your goals, we develop a plan and present you with our ideas.
If you accept our proposal, we will proceed with the process. First, we order your siding and other materials for the installation. Then, we can remove your old siding, place the new siding, and walk you through tips to keep it in excellent condition for many years to come.
You can rely on your siding installation contractor as we work on your property. We want you to have a great experience and focus on addressing your needs.
How Long Does Siding Installation Take?
The time it takes to install siding depends on the size of your home and the type of siding you choose. We can provide you with a timeline during your consultation. We aim to complete our work quickly without rushing the process or skipping any steps. Typically Fiber cement siding can take up to 2 weeks on average and Vinyl Siding takes 1-2 weeks.
How Much Does Chicagoland Siding Installation Cost?
The overall cost for siding installation varies based on the kind of siding you select and the overall size of your property. Installation generally costs more for larger buildings because it takes more labor to complete the job.
Opal Enterprises, your siding installation contractor can provide an estimate when you contact us for assistance. Typcally a home remodel with new siding ranges between $20,000 and $50,000 depending on all the styles and options that can be chosen!
Contact Us for Siding Installation Services in the Chicago Suburbs.
If you'd like more information about why so many homeowners in the Chicago area have trusted us to be their siding contractors, contact our team at Opal Enterprises today. When you do, don't forget to ask about the convenient financing we have available for qualified homeowners.
You can work with a professional siding installation contractor to quickly handle renovations to your property. Find out more by calling or filling out our online contact form.