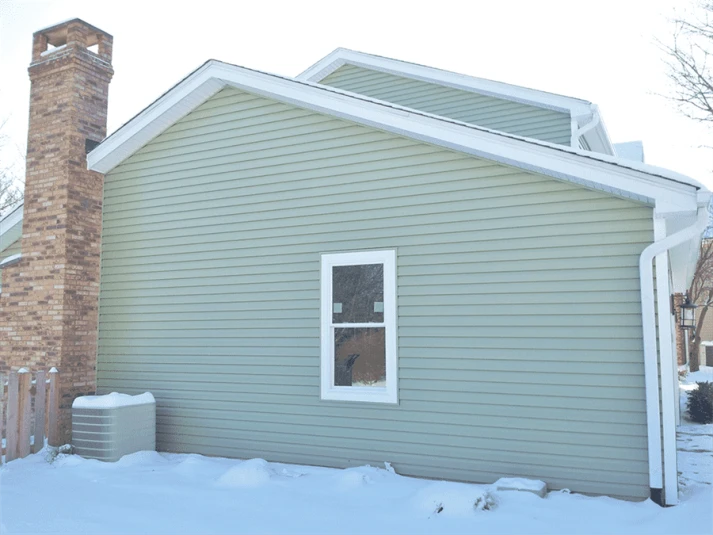 No matter how expensive or beautiful your home's interior decor is, if your property's exterior looks like crap, that's a problem you need to fix. Many homes in Arlington Heights use siding materials to add beauty and character to their home and provide some form of shield against weather elements.
Over time, the home's siding can weaken and break down, thus making the home unsightly. Your siding contributes significantly to your property's curb appeal, as well as its perception by other people. A home with geed or weakened siding looks rundown and dilapidated. And that's not good.
If you want to install new siding in your Arlington Heights home, you need to have the expert siding installers at Opal Enterprises, carry out the task and complete the project. This way, your home can regain its lost beauty and be a source of pride.
Why Choose Opal Enterprises Siding Installation Services in Arlington Heights?
Even if you love your DIYs, the reality is that siding installation is a pretty complicated process. Therefore, it's best left for siding installation specialists at Opal Enterprises to handle. We have decades of experience installing siding in hundreds of homes in Cook and Lake counties.
We carry several first-class siding products guaranteed to last long and deliver the value you desire. Because of our intimate knowledge of these products and the siding installation process, we can provide you with solid, practical information to help you make an informed decision about your siding materials and installation.
For example, many homeowners do not know that siding materials made from fiber cement–called stone veneer siding–tend to be longer lasting, are thermal proof, shield the home from weather elements, transform your house's exterior, and basically work for most homes. Yet, many homeowners have expressed gratitude for recommending this option to them.
We Can Work Within Your Budget
We have budget-friendly siding options like insulated vinyl siding that you can choose from and enjoy benefits like increased energy savings. We also offer many other siding options, styles, and designs, all of which are meant to meet your desires and expectations.
As far as we're concerned, we're in the business of making people's home dreams come true. This is why we offer a wide range of perks and options that will help homeowners eventually have the house of their dreams.
For instance, we also offer convenient financing options that make it easy for you to afford our already budget-friendly siding materials and workmanship. This financing option allows you to pay in installments for the siding installation and materials.
Only high-quality materials from trusted manufacturers when handling siding installation
Which Siding Is the Best for Your Home?
The right siding for your home depends on what your goals are and your expectations for your home's exterior. These are just a couple out of the many siding options that are available to you if you're looking to install new siding in your home or replace the old one:
Vinyl Siding
If you're on a budget and looking for a more affordable siding option, we'll recommend regular vinyl siding. But if you have a bit more budget and can splurge on a higher quality vinyl siding, you should choose the insulated vinyl option.
Stone Veneer Siding
If you can afford it, you should just go for stone veneer siding. This is ideal for the Illinois climate where it gets very cold during the winter. Stone veneer siding is capable of withstanding even the most brutal of winters.
And because of how they're designed, they'll do this without cracking, splitting, or losing heat. And in the summer, they'll help keep the house cooler by protecting the walls from direct sunlight. This makes them a super energy-efficient option for anyone seeking to cut down on their utility bills during the winter and the summer. Also, you'll likely get almost 105 percent ROI on stone veneer.
If you need help deciding on the best option for your property, feel free to come talk to us about it. Our knowledgeable and experienced siding installation contractors in Arlington Heights, IL, will provide you with all the valuable information you need to make your decision.
How Much Does Siding Installation Cost in Arlington Heights?
The average siding installation project costs between $2 and $12 per square foot. So, if you have a 1,000 sq ft home, that'll cost anywhere from $2,000 to $12,000. Whether the size of your home is 1,000 sq ft, 1,400 square foot, 1,800, sq ft, 2,500 square foot, or whatever size it is, just multiply the square footage of the house by the lowest and highest prices.
This will give you a price range to work with. Please note that these are just broad estimates. At the end of the day, you will still need to get a specific estimate that's meant for just your property.
The factors that will ultimately determine how much you'll pay for the siding installation or replacement include:
The type of siding material you choose

The size and square footage of your home

The property's layout and location

The state of the siding that's currently installed in the house

The installation process

What kind of return on investment you're seeking
These are some of the key factors that will ultimately determine how much the siding installation will cost in your Arlington Heights home.
Only high-quality materials from trusted manufacturers when handling siding installation
Contact our Experienced Arlington Heights Siding Installation Contractors
Whether you want to install new siding in a new construction or want to replace the old siding with a new one, we can help you. At Opal Enterprises, we understand that installing new siding in your home is something you need to weigh carefully.
We are here to work with you and help you every step of the way. Our skilled siding installation professionals will help ensure that your siding project goes smoothly and according to stipulated deadlines. We tend to only use the best available siding materials.
Every project is covered by our labor warranty, and you can be sure that we will do an excellent job with your project. Contact us today to schedule an appointment or discuss your project.