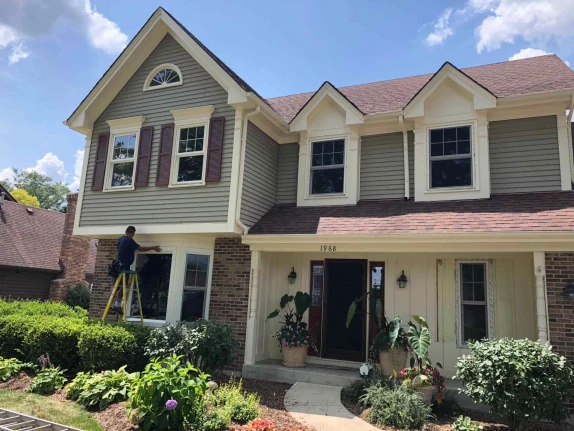 Has your home seen better days? Is the siding peeling off or worn down? Are the windows drafty or outdated? Do your doors not open or close properly? Do you have a porch or deck that is falling apart?
If you've answered yes to any of those questions, it's time to turn to the St. Charles exterior remodeling specialists at Opal Enterprises.
Since our founding in 2003, we have helped countless homeowners throughout the Chicagoland area improve the look and functionality of their homes, and we can help you, too.
Exterior Remodeling Options We Offer in St. Charles
At Opal Enterprises, we offer a large selection of high-quality home remodeling options, including:
Siding
Damaged siding can make your home look unattractive, and leave it vulnerable to rain damage and infestation. If you want to improve your home's siding, we have a variety of vinyl, fiber cement, and stone options that will help you do so. They're all exceptionally durable, aesthetically pleasing, and designed to help protect your home from the elements.
Windows
We are proud to offer a large selection of EnergyStar certified windows that offer exceptional energy efficiency as well as unparalleled beauty. Our windows come in a variety of materials, colors, styles, and hardware options.
With the help of a local window company in St. Charles, you'll be able to customize nearly every aspect of your new windows to match the rest of your home. Once we've helped you create the perfect windows, our window installation team will ensure they're put in properly.
Doors
Whether you're looking for a front door, storm door, or all the above, we've got you covered. Our doors are available in a number of decorative and functional options, so you'll be sure to find one that meets all your needs.
Want to save money on your energy bill? We carry a variety of doors with foam-filled cores and weatherstripping that are sure to help you reduce your energy consumption. Visit our showroom in Naperville to browse all of our elegant, energy-efficient offerings.
Decks
Our custom-made decks will let you take full advantage of your outdoor space. Select from your choice of styles, colors, and other customization options to create your dream deck.
Our deck installations are built to last with durable, weather-resistant materials. We use TimberTech® composite decking, which is made to resist an incredible amount of use and weathering without fading or showing any signs of damage.
High-quality, energy-efficient windows in your home
Benefits of Hiring Our Exterior Remodeling Company in St. Charles
Our exterior remodeling team in St. Charles can handle your exterior remodeling project from start to finish. We'll make sure your new windows, doors, and siding installation or outdoor space is designed and installed to your liking.
If you are interested in window replacement in St. Charles, here's what our team can do to give you the remodeling experience you've always dreamed of:
Offer a free exterior remodeling consultation
Provide detailed plans and cost estimates for your exterior remodeling
Secure the permits you need to legally remodel in St. Charles
Help you select durable materials that work for your home and your budget
We Offer a Labor Warranty for Our Exterior Remodeling Services
At Opal Enterprises, our top priority is ensuring you get exactly what you want from your exterior remodeling. If you're ever dissatisfied with our installations, we want to make things right. That's why we offer a labor warranty on all our services.
All our window and door installations come with a lifetime labor warranty. We also offer a five-year warranty on our siding work. To take advantage of one of our warranties, simply fill out a service request on our website, and a representative will contact you shortly after.
High-quality, energy-efficient windows in your home
Exterior Remodeling Financing Options Available in St. Charles
Our exterior remodeling company in St. Charles has a number of financing options to help you pay for your windows, doors, and siding. Our payment plans are easy to sign up for and can help you get the remodeling services you need ASAP. Here's what makes our financing options so helpful and easy to apply for:
No home equity required
Fast credit decisions
No application fee
A simple application process to can complete on your computer
Long-term financing options available to all St. Charles homeowners
Our Exterior Remodeling Services Are Popular Among St. Charles Homeowners
As renowned St. Charles exterior remodelers, we offer high-quality renovation and installation services at an unbeatable price—and it doesn't go unrecognized. In fact, many of our customers have thanked us for our professionalism and attention to detail. See for yourself by visiting the reviews and testimonials page on our website.
There, you'll find countless stories from homeowners who we've served in the past. You can tell from entries that we delivered exactly what they were looking for in exterior remodeling. If you choose to work with us, we'll make sure your remodeling experience is just as life-changing as theirs.
Give Opal Enterprises a Call Today
For nearly two decades, Opal Enterprises has provided homeowners in St. Charles with the exterior remodeling they need to protect their homes, improve curb appeal, and become more energy efficient. Contact us online to discuss your project.
Please call us for more information about installation and remodeling services, including roofing replacement in St. Charles. We'll set up a free consultation to discuss your remodeling goals and the options that best fit your vision.