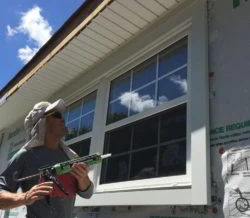 Dilemma – You know you're in need of a window replacement soon, but when is the best time?
Window replacement can be done at anytime, even in the winter, but different seasons have their perks. Here's some insider advice about what makes fall a great time for a window replacement in Northern climates.
---
1. The weather is nice
It's not too hot, not too cold. It's often less rainy when compared to spring and summer, especially in the midwest. In most temperate climates, fall is the ideal time for dealing with having a temporary hole in the wall. When a window replacement is done, there's always a period of time when the window opening is windowless. Especially for full-frame window replacements, the window installer will need to take some time to remove the old frame, and possibly repair any rotted wood before installing the new window and frame. This makes fall an ideal time for interior comfort during the window replacement process. Comfort isn't the only reason, caulk adheres best when the weather is warm but not hot, generally in the 40-80 degree Fahrenheit range for latex type caulk. While it can be done in other temperatures, fall weather is ideal for most sealing techniques.
---
High-quality, energy-efficient windows in your home
2. Winter is coming
The leaves begin to turn and the air is delightfully crisp. While fall's cool beauty is refreshing, it's also a friendly reminder that it's time to prepare our homes winter. It's never a fun experience to weather a winter with old drafty windows. Don't wait until it's chilly and frosty to contact window contractor in Downers Grove. Maximize your enjoyment of winter and gain energy savings by replacing your home's windows in the fall.
---
3. Optimal scheduling
The busiest spring and summer season is over and crews are still at full capacity. This means you'll likely be able to get on the window replacement services' schedule fairly quickly. Fall can still be fairly busy, or at least busier that winter, but you'll likely find good flexibility and availability to work with your schedule.
---
High-quality, energy-efficient windows in your home
4. Competitive deals and financing
Window companies are eager this time of year to fulfill quotas and maximize sales before the slowdown in the winter. This demand often leads to promotional offers and financing deals. Fall is an excellent time to get the best value out of your window replacement project. Homeowners can often snag low cost financing, sometimes even interest free. You'll also likely find it easy to get approved with flexible options like deferred payments. Some window manufacturers will offer special rebates and bulk discounts that you can get through your window contractor. Shop around and ask for quotes, but don't look for the cheapest because that can get you into trouble. Look for a reputable window installer who offers trusted brands, guarantees, and a good value overall.
---
Happy window shopping!
Have a warm and cozy winter and an improved home with a fall season window replacement in St. Charles and other service areas.. If you're located in the Chicago area, Opal serves the majority of area suburbs out of our Naperville and Glenview locations. We provide complete window replacement services and high quality window options from Andersen, Beechworth, and Alside. We install Energy Star rated windows and offer custom finishing. Easy financing is available, so you can get your new windows right when you need them. Contact us for details.
---
Article Sources: