Window Replacement From a Leading Remodeler Serving Park Ridge Heights, IL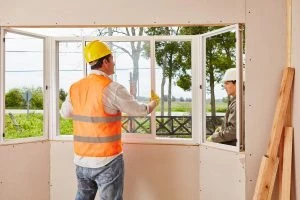 Bite the bullet, pull the trigger, take the plunge—so many phrases to describe a home improvement that you know you need but worries you for one reason or the other. Take your upcoming window replacement project. Would you describe it as a bitter pill or a sweet solution? At Opal Enterprises, our experienced team of remodeling pros offers nothing less than the most tasteful solutions for homes. Here's how we can make your window replacement project in Park Ridge Heights, Illinois, as easy as pie:
High-quality, energy-efficient windows in your home
We Offer Informative Consultations
One of our window specialists can come to your home to assess your needs, evaluate your home, and discuss the window styles, features, and options you prefer. We'll offer recommendations, based on almost 20 years of remodeling experience, as to which styles suit your home's architectural features. If you want, we can discuss window features like frame material and triple-pane glass to give you all the information you need to make an educated decision.
Custom Replacement Windows
Whether you need a traditional double-hung window for your bedroom, an awning window for a bathroom, or bow windows for a dramatic living room remodel, you can customize your new window in every practical way imaginable. You can choose frame material (vinyl, fiberglass, wood, composite), color and finish (too numerous to mention), and decorative elements like hardware and grid patterns. For energy efficiency that can reduce your energy bills, choose from different levels of low-E glass and multiple panes.
If you would like to know more about our windows, contact Opal Enterprises, or visit our showroom at 1239 Rand Road in Des Plaines, IL, not too far from Park Ridge Heights.  And be sure to ask our representative about our easy financing options.