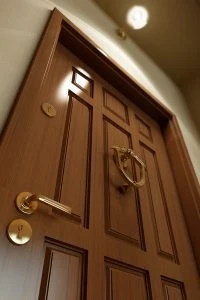 A new front door is an investment that offers a wealth of benefits for the home, from boosting curb appeal to improving safety and security. Reputable remodeling companies understand this, so they take special care to ensure that every aspect of their door replacement in Downers Grove is performed with keen attention to detail.
As any do-it-yourselfer who has installed a front or entry door can tell you, the process is harder than it looks. But trained door installers are experts at solving common installation problems like misaligned bottom plates or an uneven gap across the top. Still, as you wait to have your new door installed, there are few things you can do to facilitate the process.
Review the Installation Date
Is the planned installation date still convenient for you? If you've partnered with an experienced, customer-oriented remodeling company, it should be able to accommodate a date change. Once your date is confirmed, you can expect a company representative to review the door installation plan with you in advance.
Questions? Call 847-380-8868 in Des Plaines and 888-676-6725 in Naperville
Get Your Home Ready
To prepare for installation day, move any furniture or decorations away from the area where the door will be installed. The less clutter, the more room the installers will have to move around and arrange any necessary tools and equipment. You can expect your professional installers to be respectful of your home, covering their work area with drop cloths to protect your space.
Make Plans for Your Pets
If you have a dog or cat that may become frightened by the all the activity in the home, put it in a room where it will feel comfortable while your new door is being installed. Even if it's a friendly, well-adjusted pet, keeping it away from the work area will help the installation proceed smoothly.
Learn more about our top-of-the-line products in Naperville 888-676-6725
Ask Questions
When the installers start cleaning up and putting their tools away, you'll know your new door is ready for your inspection. The lead crew member will likely ask if you have any questions about the installation. Please take this opportunity to ask as many as possible. Today's front doors are built for longevity, which means you'll probably have yours for a while. Your installers will show how to operate the door, brief you on how to maintain it, and provide you with any necessary warranty information. We want to make your door replacement in Fox Valley a positive experience so you can have a company to call if you need future replacements.
The Opal Door Replacement Experience
A family-owned and -operated company since 2002, Opal Enterprises understands that the cost of any home improvement is a practical concern. That's why we have dedicated ourselves to delivering low-risk door replacement services for homes. To ensure high performance that rewards your investment, we install front doors from two of the industry's most respected names—ProVia® and Andersen. These doors are available in custom heights to fit virtually any residential door opening and can be ordered in steel or fiberglass to suit your taste and budget. Contact Opal Enterprises for more information. Or, if you're in the Chicago area, visit either of our showrooms at 1239 Rand Road in Des Plaines, IL, and 127 Ambassador Drive STE 159, Naperville, IL.