Evening Blue – Designing with James Hardie Siding Colors
Good evening blue! Evening Blue is a medium deep blue siding color developed by James Hardie Building Products. This color is part of their ColorPlus® Technology line for their fiber cement siding products. At Opal, our siding contractors install this often in the Naperville area. It's one of our top selling colors because it goes with just about any architectural style. We often see it used on classic colonial style homes paired with arctic white trim. Stone accents also look lovely with it. It's a versatile, bold, and beautiful siding color with class and style!
Here are some of our favorite James Hardie siding color pairings: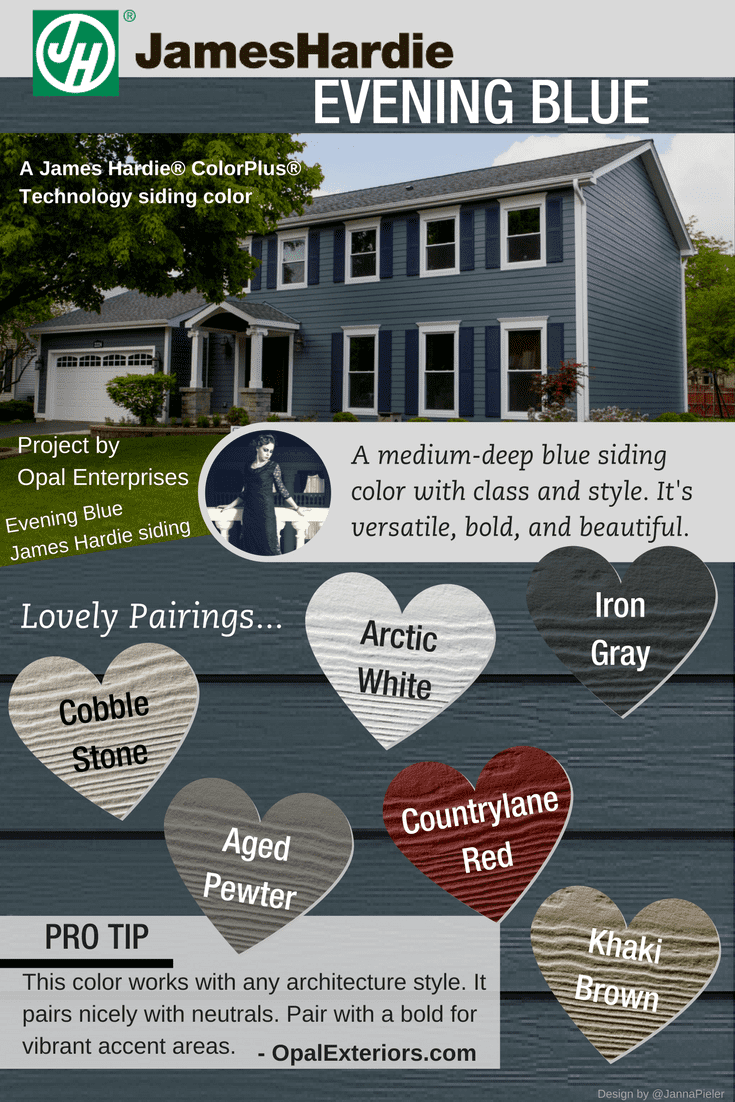 James Hardie Evening Blue pairs nicely with neutrals, particularly brown and gray tones. Bold colors are also fun to play with such as a splash of Countrylane Red for added vibrancy.
Color combinations to try:
Evening Blue siding – Arctic White trim (a customer favorite)
Evening Blue main exterior – Iron Gray accent siding – Arctic White trim
Evening Blue main exterior – Cobble Stone accent siding – Arctic White trim
Evening Blue main exterior – Khaki Brown accent siding – Arctic White trim
Evening Blue main exterior – Countrylane Red accent siding – Cobble Stone trim
Evening Blue main exterior – Aged Pewter accent siding – Cobble Stone trim
Have fun and play around with different combinations. Try out our wall design tool to pair different trim colors and siding, and get inspired by exploring project examples in our gallery.
Only high-quality materials from trusted manufacturers when handling siding installation
What makes James Hardie Siding colors special?
The ColorPlus® Technology enables these colors to last extremely long in comparison to paint. They are applied to the fiber cement siding using a baked-on process. The color finish withstands weather wear, uv rays, and resists peeling and cracking. The finish itself comes with a
About Opal Enterprises
Opal Enterprises is an expert in James Hardie siding products. Opal is a siding contractor who's been serving the Chicago suburbs since 2003. They offer a full range of exterior home renovation services with locations in Naperville and Glenview Illinois. The company is endorsed by James Hardie as and Elite Preferred Siding Contractor. This type of contractor installs the full range of James Hardie siding products and regional colors. The team enjoys sharing their knowledge and helping their clients acheive high quality home improvements. For more information about Opal's siding installation services visit: https://www.opalexteriors.com/siding-contractor/ or get started with a quote.