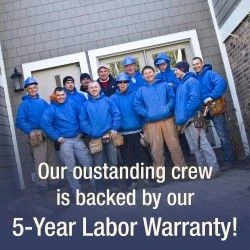 As a consumer, you probably wonder what makes one company better than another? The answers lie within the quality of the business operations, which is precisely what Opal Exteriors prides itself on doing. We offer a variety of window and door options to install.
We service, guide, and communicate with our customers throughout the entire process. Our ability to work with all types of windows to fit our customer's needs is second to none. Our unique window designs are fiberglass, composite, vinyl, and wood.
We Work With You
Sure, it can be an intimidating process if it is your first time. Opal Exteriors is unique because we work with you, not just for you. We like to keep everyone on the same page and in the loop to prevent any mishaps.
Our window contractors take the time to educate you about all the product options we offer, enabling you to make the best decision for you, your home, and your budget. With years of experience under our belts, there is no job too far out of reach for us to tackle.
Since our inception, we continue to ensure that every customer has a positive remodeling experience. To further support this, our accolades can attest to us. In fact, with the Better Business Bureau and numerous others, we have an A+ rating.
Questions? Call 847-380-8868 in Des Plaines and 888-676-6725 in Naperville
Risk-Free, High-Value Remodeling Solutions
Opal Exteriors differentiates itself from other leading and competing brands by offering risk-free, high-value remodeling solutions. We have a long tenure as a home remodeler, which aids in deepening our understanding of what homeowners prefer.
For this reason, we are happy to offer attractive replacement windows in Des Plaines and Naperville that feature the highest standards in durability and energy efficiency. Our lifetime warranty is another positive attribute of Opal Exteriors. The lifetime warranty for customers is highly generous, and our window contractors stand firmly by it and their work.
Only the best professionals work for Opal Exteriors to handle all your windows. Opal Exteriors does not compromise customer satisfaction. Should any issues arise, our claims process is nothing to dread. The process is quick and straightforward with a response from our team.
We Offer the Best Products for Your Barrington Home
As a business, our promise to you as your window company is to offer the finest products. Additionally, we provide expert installations from trained professionals.
If you want to cultivate a more traditional aesthetic in your home, we are your solution. Our wood interior windows are ideal for providing charm and warmth and vinyl protection for the exterior. In addition, if you prefer much more affordable windows without sacrificing beauty, energy efficiency, or durability, our collection of vinyl windows is perfect.
Please take advantage of all we have to offer at Opal Exteriors. Customers report back with positive reviews and remain loyal to our business. With years worth of training and experience, Opal Exteriors contractors understand the company and the importance of its services.
Learn more about our top-of-the-line products in Naperville 888-676-6725
Call Opal Exteriors Today
Are you ready to take your home to the next level? Call our office, or complete our contact form to schedule a consultation. Our team responds promptly to assist you and address all your concerns.